Hi Dolls!
Soooo I have a huuuuge interview this upcoming thursday and I have been going nuts getting everything ready! I thought I'd share the things I've purchased so far =]
The lovely
Dulce
's "How to glam up your 9-5" video was SUCH a big help I can not thank her enough! I fell in love with one of the outfits she wears in this video (the one with the yellow top and flower lace pantyhose), I knew it'd be perfect for my interview, except I have to wear all black ;)
The Top.
Yellow Victorian Ruffle Top available at http://hotmiamistyles.com $26.99
They didn't have it in black so I ordered the white top and I'm actually going to dye it myself with good old Rit fabric dye (available at Wal-mart) I have NEVER done this before so I can only hope for the best!
It feels like there's a 50/50 chance of me wearing this top to the interview. One, because I ordered it yesterday (labor day-no post office) and although I paid $25 extra for express shipping, it still may not arrive by tomorrow.. and Two, I may ruin it during the dye job lol! but it was a risk I was willing to take for such a beautiful outfit(I already have a different back-up blouse just in case!).
The Pencil Skirt.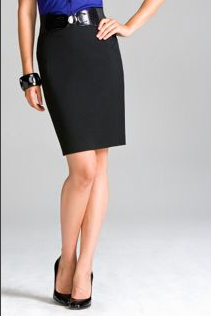 Express- Studio Stretch High Waist Pencil Skirt. $49.50
I love it! It wears beautifully and it's so comfy! It cinches the waist and the stretch fabric really hugs your curves. I feel confident wearing it which is most important!
The Shoes.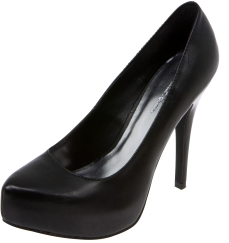 Charlotte Russe Platform Pumps. 24.99 I couldn't find a picture of the exact shoes I purchase but they're similar, only mine are patent leather and peep toe.
The shoes at CR. are buy one, get one for $10; so I got a pair Suede Slouchy Boots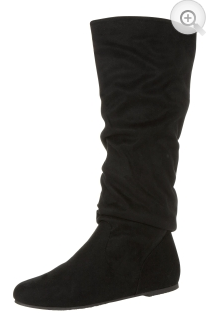 They're knee-high and I love em!
On the hunt for:
The flower laced stockings!! I got beautiful flower lace LEGGINGS from Forever 21 but I just don't like how they are cut off at the ankles..
it doesn't look right with a pencil skirt.. if anybody knows where to find the stockings please leave me a comment! If I can't find them tomorrow, I'll just pick up some sheer black pantyhose but I feel that the flower lacing would be strongly remembered and just gives the whole outfit a huge dose of fierceness. Do you agree? -
The Backup.
Miley Cyrus & Max Azria - Chiffon Ruffle Blouse $12.00 (!)
The Hair.
My hair is a lot shorter after they "trimmed it" so I wanted to get hair extensions! *shout out to my yt bff
Ledy! fafibaby12
lol* I bought the human hair extensions strip at Sally's for $49, and I will prepare it tonight by sewing the clips into it. I'm going to wear my hair curled and half up w/ a big birdsnest (teased) lol and I'll be wearing a black flower hair clip that has glitter and feathers! =] I'm going to keep the accessories simple and wear my Black Daisy Stone Bracelet from
Status Glam.
Yay! I'm feeling really good about this.. the outfit is probably only a small factor in helping me get the job but I need to feel confident and do my best!