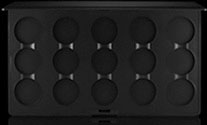 MAC Pro 15 Eye Shadow Palette $12.00 USD



Eye Shadow Refill $11.00 (vs. eyeshadow pot $14.50)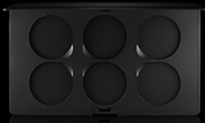 Pro Colour Blush Palette $12.00



Blush Refill pan $15.00 (vs. blush pot $18.00)

I'm going lay down the math to show savings for you in a bit, but using palettes rather than pots is a really good idea because it will save you soo much space! Especially if you have a lot of makeup and need to carry it around in a train case. You can also save a lot of time and hassle, say you have 30 eyeshadows and you're looking for one specific color; would you prefer look through 30 different pots or just open two palettes?

I totally understand that it's a matter of preference. For example, I do NOT like the idea of having my blushes in a palette... only my shadows. It's the crazy in me =]

Now! Fifteen eyeshadow pots would cost you $217..

To fill one 15 shadow palette you would purchase a palette ($12) and fifteen pan refills ($165) for a total of $177 spent. That's a $40 savings!

Keep in mind if you depot your shadows you should take advantage of the Back to MAC program and claim your free lipstick(s)!