Wave Hello to the Neutrogena Wave power cleanser =]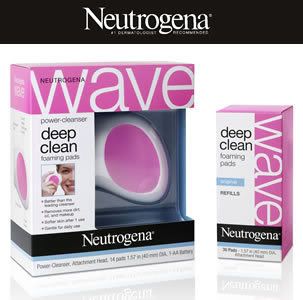 This little guy is amazing! When I first bought the Wave I didn't expect much, just a cleanser that would remove dirt, oil and makeup.. like my other cleansers.. but I was officially wowed after just one use!
It leaves your face sooo smooth and definitely softer!
According to Neutrogena:
The wave's gentle vibrations help soften pores, so the foam (cleanser) can do 10x deeper to remove more dirt, oil and makeup than traditional cleansing.
Softly textured pads sweep away layers of dead skin cells- leaving 100% of girls with softer, smoother-looking skin after the first use.
The wave is gentle enough to be used daily; and when you do, your skin will start to produce less oil so that clean feeling will last even longer.
-----------------------------------
This may just be the answer for girls with oily skin.
Because I have dry skin I only use the wave about once or twice a week on average, but removing dead skin cells to reveal fresh, radiant skin and having a product that will clean deep down into pores is important for all skin types!